Here Is A Small Chunk Of Our 100+ Clients
Witness the transformational journey of Dextalabs, a leading provider of cutting-edge app and software solutions.
Explore our captivating case study, where technology meets ingenuity, and challenges become opportunities. Discover how we partnered with our client to overcome obstacles, drive growth, and deliver game-changing results. Immerse yourself in the realm of innovation as we delve into the intricacies of this extraordinary collaboration.
From concept to execution, witness the power of our expertise in developing apps and software solutions that redefine what's possible.
Welcome to the future of possibilities!
DHL
A dedicated web-based platform required to increase efficiency and centralize the data for managing fleet, drivers, training and certification of personnel.
Fracht
A mobile solution for employees working in logistics including the latest incoterms, conversion calculator, container specifications, world times, currency convertor and much more.
IPC
Taking stress off the shoulders of many traders in the global financial market is not easy. Well, we did it - here's the app.
Panasonic Powertools
Introducing Pansonics Power Tools App - your ultimate tool management solution. Control, monitor, and customize your Pansonics power tools from your smartphone. Enhance productivity and efficiency with real-time data and personalized settings. Power up your projects with the future of power tool technology.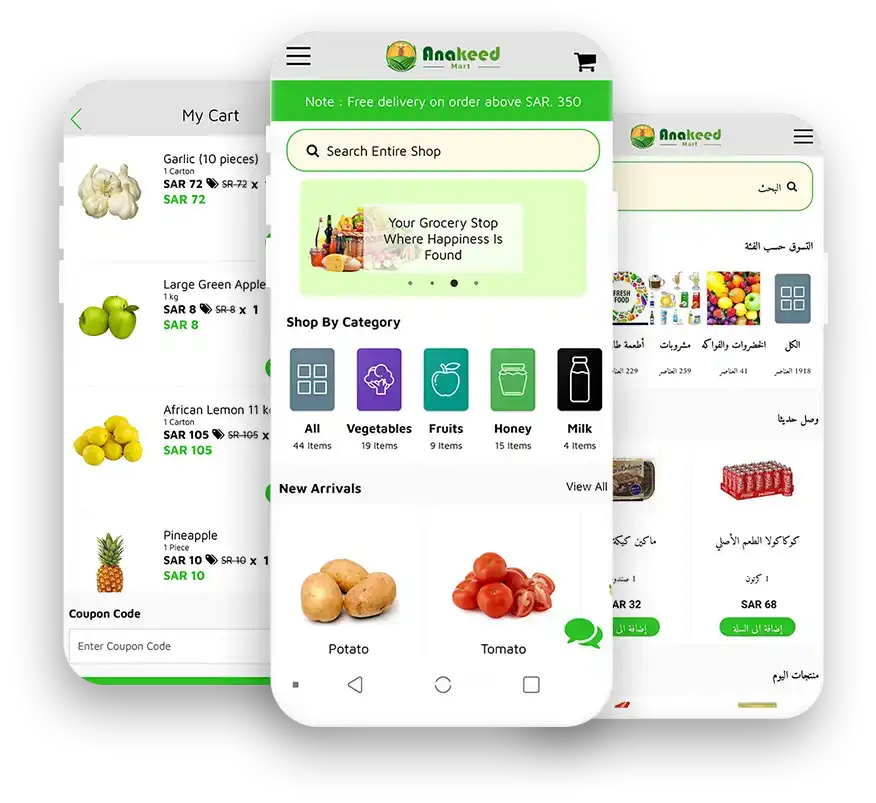 App Updates for Bang Acoustic Labs
The premier online grocery shopping platform in Saudi Arabia. Experience the convenience of high-quality, organic products delivered straight to your doorstep. Shop for fresh fruits and vegetables effortlessly and enjoy a seamless shopping experience like never before.
AICF Mobile App Development
The application was designed for a Nigerian loan company specializing in credit loans. Through the application, customers, agents, and loans can be managed. Languages used – PHP Zend, Bootstrap, HTML5, CSS3, jQuery.
Pak Rail Live
DECISION LAB
Pak Rail Live is free application for general public of Pakistan which provides Real Time trains tracking of Pakistan Railways.

iOS App Development Android App Development Product Design Workshop Back-End Development Web App Development UI/UX Design
Shell
SHOPOLOGY
An application developed to automate the process of logistics by Shell Pakistan. It reduced the paperwork, maximized the productivity and efficiency of drivers & fleet managers.

Android Development
Back-end Development
Natty Fit
EPINION
The lifestyle community that helps you connect with other focused people. Your ultimate workout partner could be next door! Go live and discover Nattyfits near you. Grind with us!

Branding
Presentation System & Guideline
Graphic Design
Tracker & IOT
DECISION LAB
Everything you need to know about your vehicle or fleet, All in One App. Robust, Secure, Engaging Interface and User friendly.

iOS App development
Web Dashboard
Android App development
Back-end development
Cata Black Car- Chauffeurs MIA
DECISION LAB
Hello and welcome to Cata black car! A company that provides luxury chauffeured transportation. We are a driven limo-style company based in Miami, Florida, near Miami Beach and Miami Airport.

iOS App development
Android App development
Back-end development
Partz Buddy
DECISION LAB
A startup of Digital Auto Parts Marketplace, where individuals can buy & sell spare parts and accessories.

iOS App development
Web Dashboard
Android App development
Back-end development